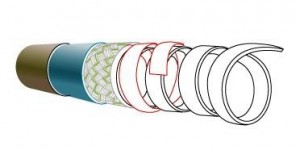 Our colonoscopic tubes utilize:
*two-spring stainless steel construction to withstand frequent torque
*variable or constant stiffness to provide a wide choice of options for control and flexibility
*manufactured with USP Class IV materials
*compliant with the ISO 10993 Specifications for Biological Evaluation of Medical devices
*all insertion tubes carry a 6-month warranty
LSVP tubes are a perfect replacement for the original equipment.
Unlike many third party products currently available on the market, our insertion tubes have been designed and used in the scopes produced by ISO 9001 certified manufacturer on a production line originally purchased from Olympus. We have been working on introducing a variety of sizes and models to satisfy the majority of repair needs. We stock a large inventory and usually ship the same day.
Our products have been used for repairs on Olympus and Pentax scopes since 2001, and tested for compatibility with most contemporary sterilization techniques both by ourselves and by our customers. Mechanical and appearance tests conducted by our customers have shown both consistency and quality of manufacturing.
To download
information about all of our insertion tubes
, in PDF, please click
here
.
To download information about
tube manufacturing plant
please click
here
.
To properly view these files, you will need to have a recent version of Adobe Reader.
Contacts
Write to LSVP:
info@lsvpusa.com
Phone:
1 650 969-1000
1 866 969-0100
Fax:
1 650 969-2300
---
Tubes Catalog
---
Manufacturing Plant