Flexible Instruments
* High quality
* Reliable design
* Broad spectrum of styles and sizes
* Sterilized by common hospital methods: autoclave, ETO, etc.
* Please request instructions for use and cleaning from LSVP
* Sold under LSVP brand name and under many private labels
* Individually assembled, 100% inspected and serialized for complete traceability
* Special industrial lengths – up to 6500 mm. Ultem or Stainless steel handles. Choice of handle colors and/or Teflon coating
* Urology instruments with lap handles and jaws/cups/ blades compatible to Storz
* Veterinarian instruments in 5,5.4 and 7 French diameter for channels 1.8 mm and up
and lengths from 350 to 3500 mm
* Custom projects – design, prototyping, manufacturing. OEM inquiries are welcome!
LSVP reusable forceps and graspers construction employs:
1. Fully autoclavable Ultem or Steel handle
2. Special steel alloys for strong, corrosion resistant cups/jaws
3. Reinforced housing/cups assembly with an extra hard spike, non-riveted precise assembly of the arms, laser-welded axle that virtually eliminates breakage of an arm or a cup
4. Specially designed pusher/activator to make the cup assembly fold consistently within the housing to avoid damaging instrument channel
5. Laser welded joints
6. Stainless steel clip to secure internal drive in the handle
7. Teflon coated, virtually frictionless cable to ensure smooth action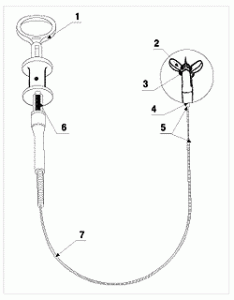 ---